Chinese New Year 2020 – Office Closures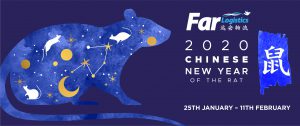 Chinese New Year 2020, upcoming office closures.
Year of the Rat, 2020
The following Far Logistics offices will be closed for the upcoming Chinese New Year holidays.
Hong Kong
25th, 27th, 28th January
China (Shanghai, Ningbo, Qingdao, Xiamen)
24th, 27th, 28th, 29th, 30th, 31st January
Vietnam
23rd, 24th, 27th, 28th, 29th January
In the lead up to the Chinese New Year celebrations later this week our offices will be making every effort to ensure that all clients cargo is collected, cleared and loaded as booked.
All offices will be unavailable through the dates shown.
We wish all our friends, colleagues and suppliers a happy and prosperous Chinese New Year.